Now it seems even Jewish Canadian leaders are pushing back calling for support of BDS and focused opposition to a list of Anti-Canadian Legislation passed on behalf of the israeli government regulating the conduct of canadians Via the canadian legal system criminalising disdain for human rights abuses.

Electronic Intifada Reports: Human rights activists in Canada are backing a resolution that would reset the leftist New Democratic Party's (NDP) political orientation around Palestine.

The resolution, which will be introduced during the party's policy convention next month, calls on the Canadian government to sanction Israel for its abuses of Palestinian rights and demands Israel lift the Gaza siege, end the occupation and settlement enterprise in the West Bank and address Palestinian refugees' right of return.

​It also seeks to oppose governmental efforts "to undermine non-violent movements seeking a just resolution," taking aim at the parliamentary smears against the global boycott, divestment and sanctions (BDS) campaign for Palestinian rights.

Activists say that with the recent election of party leader Jagmeet Singh, who has spoken out in defense of Palestine solidarity activism, BDS and Palestinian rights, there is optimism about what the new leadership can bring forward in terms of action on Palestine.

Singh has indicated that he is open to supporting targeted sanctions on Israel. He said he backs mandatory labeling of products made in Israeli settlements "and excluding these products from the benefits of CIFTA [Canada-Israel Free Trade Agreement]. I am also open to considering a ban," he stated.

"We see this as an opportunity," said Yazan Khader, an activist and member of the NDP.

"More and more New Democrats are becoming aware of the injustices Palestinians face, and they want to take action," he told The Electronic Intifada.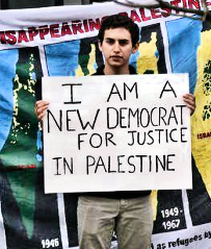 "Huge momentum"
Last summer, Palestine rights organizers sent an open letter to NDP members outlining the problems with the party's platform on Palestinian rights.

Khader told The Electronic Intifada that since then, more than 20 local NDP chapters from across six provinces have joined the party's youth wings and student chapters, human rights groups and an Ontario labor organization in support of the Palestine resolution – evidence, he said, "of the huge momentum building up" around Palestinian rights advocacy in political and activist groups.

That momentum hit a high note last summer, as Unifor, Canada's largest private-sector union with more than 310,000 members, adopted a policy platform in support of the Palestinian-led boycott, divestment and sanctions (BDS) campaign.

Unifor's support of BDS followed a statement by the Canadian Labor Congress in June in which the group defended BDS and called for an end to the occupation and Israel's land theft for its settlements.

The Canadian Labor Congress is the largest labor organization in the country.

Activists in the NDP say that with this overwhelming support by labor groups, the political party can continue to strengthen its policies on Palestinian human rights.

"In its past, the NDP has been inextricably tied to the labor movement," said Jake Cohen, an NDP member and activist with Independent Jewish Voices, a Canada-based human rights group.

As international labor movements stand in support of BDS and in solidarity with Palestinian trade unionists themselves, the NDP is in a strong position to move the campaign for Palestinian rights forward, Cohen said.

"The NDP is looking at this and saying we need to be in line with labor's view – and part of labor's view is in solidarity with the Palestinians," Cohen told The Electronic Intifada.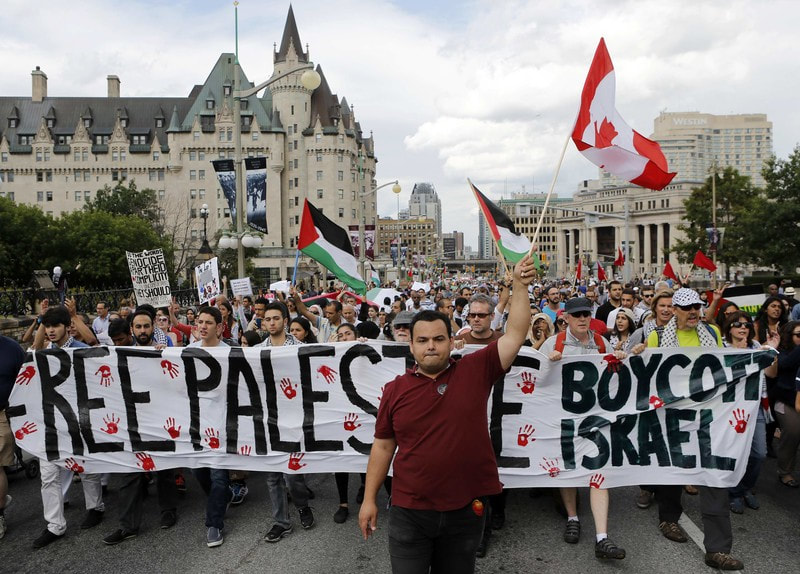 Broad support
Cohen and Khader said it was crucial to bring a reference to the BDS campaign into the resolution's text in order to counteract the Canadian government's moves to criminalize the global movement for Palestinian rights.

"When the leader of the Liberal party, now prime minister [Justin Trudeau], condemns activists calling for a just peace, and when he supports a motion in parliament condemning the BDS movement, it always ends up hurting people who are advocating for peace and justice, including Jewish activists," Khader said.

Just like their US and European counterparts, Canadian leaders continue to conflate criticism of Israeli policy with anti-Semitism, Cohen noted.

Last year, for example, in a statement praising Israel on its "Independence Day," Trudeau equated and condemned anti-Semitism and anti-Zionism.

It's difficult to be active on Palestine rights issues when activists are told that their support of Palestinian rights amounts to bigotry against Jews, Cohen said.

"This resolution says that's not okay," he noted.

It also reflects the position held by most Canadians who almost unanimously reject the view that criticizing Israel is anti-Semitic.

A poll conducted in February 2017 found a major disconnect between Canadians' views of Israel and the policies of their government, led by Trudeau.

Another survey last year found that 80 percent of Canadians believe that the BDS call is reasonable, while more than half of the population expressing an opinion also opposed their parliament's condemnation of the BDS campaign.

Eighty-four percent of New Democratic Party members support sanctions on Israel.

Khader told The Electronic Intifada that the NDP resolution is being introduced at a critical time as Palestinians continue to resist Israel's accelerated oppression, control and colonization, crimes aided by the Canadian government.

"It's morally right to say that Palestinians deserve their rights," Khader said. "And the time is right for the NDP to take a stance."