He said: "I get a lot of messages from women online who ask me if I will have sex with them."

"They've heard about my bionic penis and they want to try it out. They are all very intrigued and think I can make love for hours."

His man-made member has been fitted with two tubes which fill with liquid from his stomach when he presses a button in his testicles.

​"They are all very intrigued and think I can make love for hours"
Mohammed Abad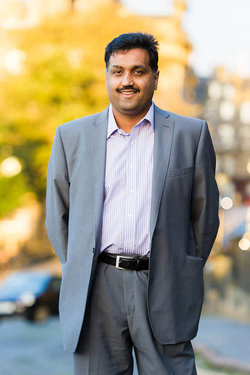 Another button lets it deflate.

But despite the saucy offers, Mohammed said he has not had sex since sleeping with sex worker Charlotte Rose eight months ago.

He said: "It's not that I don't want to and I get offers, but I have been so busy with work. I work 14-hour shifts every day and by the time I get home I'm just too tired for sex."

The other bad news is Mohammed has discovered he won't be able to have children after an operation in July to extract his sperm failed.
​
Doctors at University College, London, took a specimen from his remaining testicle in the hope he could one day be a father, but discovered it was not viable.

It was his 121st operation since 2012 when he had the life-changing surgery that gave him a bionic replacement made of nerves and skin from his arm.
He had full sex for the first time this year after turning to escort Charlotte, 35.
She waived the usual £160-an-hour fee after learning that he split from his first wife in 2013 before his penis was fully functional.
But Mohammed, who lives in Edinburgh, also revealed he could soon be tying the knot again with an arranged marriage.
His parents are searching for a wife for him and he is hoping there could be a wedding as soon as next year.
He said: "
We're speaking to a few parties at the moment. I don't care what she looks like – she could be tall, short, thin or fat. I prefer personality to looks. My parents will find me a suitable match."

Despite having sex only once, Mohammed feels a lot more confident about consummating his next marriage.
He added:
"I'm really looking forward to the wedding night this time round.


Source:
Daily Star